Order the DVD's | We Can Help | Life After Death Your Spiritual Journey | Magnus Guides | A Voice from the Light | Nearer the Light | Spirit Surgeon | Healing Years | Spirit Guides | Spirit Guides 2 | How to Order
---
Ray Brown - 'Life After Death. Your Spiritual Journey' DVD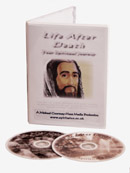 Click here for Spirit Surgeon DVD
---
Bosworth Hall

This special double DVD was exclusively filmed at the wonderful Spiritual Weekend with Paul at Bosworth Hall in Leicester.
They feature all the lectures on spiritual teachings given by Paul of Tarsus through the unique mediumship of Raymond Brown.
Paul clearly explains our progression through each level in the spirit world to reach the ultimate, final journey back to the Godhead, the Universal Source and Power of All Life
Demonstration

We discover how Ray was chosen. Paul, working through Ray also explains that the ten levels in Spirit are linked throughout by Spiritual Vortexes which as he humorously points out is like a lift through which he travels to return to our earth plane. He jokes that it's a wonder that the brakes haven't burnt out with the amount of times Jillian and Ray ask for assistance!
He goes on to divulge our entry from the earth plane into Level one where we need to become accustomed to our surroundings. Just like a baby, he states, people can be confused and frightened so there are loved ones and people to help us when we enter into level one.
Also explained in detail

Level One: Earth Plane/No mans land/Dependency Level/Clearance of Karma/Clearance Preparation for Level Two.
Level Two - The next step: Counseling and Resting/Training Stage One/Further Adjustment and Clearance Preparation for Level Three.
Level Three: Final decision time for selection of final training to work on your spiritual attunement and clearance for level four.
Level four: Becoming more spiritual means further decisions are to be made and training for your chosen work is refined. Help with releasing physical ties and clearance preparation for a pure spiritual state enabling continuation on to level five

Level four is also where you are cleansed and is the transportation area from where you will be prepared for reincarnation. Paul explains the need to release the need for earthly ties enabling your entry into level five.
The above processes between levels 1-4 are covered in depth as levels higher than this are beyond our physical understanding. There is no time limit Paul explains and you can take as long as you need to adjust from levels one to four there is no rush.
Disc One
Choosing Raymond | Spiritual Vortexes | Level One | Karma | Reincarnation | Level Two

Disc Two
Level Three | Level Four| Questions and Answers | ICHF | Spiritsinc Productions | Trailer - Spirit Surgeon
Final Message
As in Spirit Surgeon, the message is still that "Simplicity is the key and we should all learn to love one another."
A Spiritual Journey

No one, looking at the young man who had suffered so much poor health as a boy, would ever believe he would spend the next four decades becoming one of the most respected and renowned healers of the modern age.
Raymond Brown has dedicated the majority of his adult life perfecting his extraordinary mediumship, so that a very special surgeon from the spirit realms can inhabit his body for great lengths of time, freeing people from pain and giving them back hope when they thought nothing more could be done for them.
Paul of Tarsus lived on the earth plane in the time of Christ, and following Jesus' crucifixion, Paul became a most passionate and devoted apostle sharing the teachings of the one he still calls his Master. Paul has lived and worked in the spiritual realms for over 2000 years and during this time he has set up the Medical Academy in Spirit, personally training thousands of spirit doctors.

Paul chose Raymond for his work before he was born and a fascinating, yet often difficult journey lay ahead for both of them. However, this wonderful partnership, which is undoubtedly greatly enhanced and supported by Raymond's remarkable and devoted wife Jilly, has benefited thousands of people, including doctors, journalists, surgeons, celebrities, young and old. As well as being a surgeon, Paul, through Raymond, continues to teach and share the truth of life in Spirit.
This DVD is another source of his teaching as well as showing Raymond and Paul's unique relationship... and the fascinating journey that continues.
Revd. Susan Hewitt
Order the DVD's | We Can Help | Life After Death Your Spiritual Journey Magnus Guides | A Voice from the Light | Nearer the Light | Spirit Surgeon | Healing Years | Spirit Guides | Spirit Guides 2 | How to Order