Home | What's On the DVD's | Colin Fry | Ron Jordan | Irene Sowter | Ray Brown | Les Driver | Clairvoyance | Press Articles | We Can Help | Galleries
<< Table turning | Michael Courtney-Hunt>>
Ron Jordan

"The good news is that there is football in the Spirit World. The bad news is that you are referee-ing next week!" - Ron Jordan.
A world class medium with a desire to share his God given gift to help others, Ron Jordan has taught at the Arthur Findlay College, lecturing on many aspects of spiritual development including crystal healing and clairvoyance.
His speciality, however, lies in the area of Trance Mediumship and testimony to the tremendous work he carries out, are the many people who attend demonstrations having sometimes travelled from all parts of the globe to see him.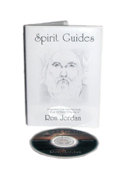 Having known Ron since 1998, it wasn't until recently that the Spirits Inc team found time to work with him to produce the newly released DVD entitled 'Spirit Guides'. As with our other productions, the aim is to illustrate that almost certainly the most effective means of understanding the reason for our existence, is through that which is revealed whilst the medium is in trance state.
This allows communication from guides in Spirit where the medium has little or no awareness of what is being channelled, where in Rons case this include entities referred to as 'Golden Feather' - a North American Indian, and a Chinese healing guide. Following on from our other productions we decided to film at Acton Spiritualist Church over several days for the first in a series featuring this ebullient and jolly Liverpudlian.
These were to include Ron's own thoughts on a variety of topics together with philosophy from his main Spirit Guide who simply refers to himself as 'George'.
Needing to maintain a balance between both medium and guide we asked them similar questions and complemented this comparison with Ron's experience of spirit activity from an early age which, he points out he was unaware was not the norm until later in his childhood!

Like most physical mediums, Ron subjects himself to scrutiny regarding his trance demonstrations for the purpose of answering questions relating to Transition, Judgment on Arrival, Religion, the God Force, Pets, Animals, Hell, Karma, and 2012, amongst others. However, he isn't one to take much notice of the very few cynics that he occasionally encounters besides which Ron knows his job is to teach and heal, normally leaving any (unwarranted) criticism for George to deal with!
Whilst in dialogue with George in what was supposed to be our interview of him, it was as if he knew what we were going to ask. It was uncanny but not altogether surprising Neil and I supposed and it did make the conversation flow more easily. A kind of meeting of minds if you like and a situation remarkably which was repeated even with an audience. What became worrying was when he answered before we even uttered the question which left nothing to ask!

What is interesting is that George gives a similar account to that of other guides even though their experience of the Earth plane may have been significantly different, he concurs by describing the Spirit World thus;
"Whilst this particular communication is taking place, we ( the spirit group) sit on banks of grass in the warm by the stream of dancing music. What happens is as the water flows down this particular stream and the water cascades over the pebbles musical notes are emitted from the water. If that is not heaven, I do not know what is!"
Although there are many fantastic things to come, we need no reminder that whilst in this incarnation that what we take from the Earth will need in some form to be replaced. George reinforces this with the '2012' warning (on the DVD) and that this major imbalance is affecting the world so much that the devastation has in fact already started.

The overall message however is that we should try to understand love for each other and not be at conflict, one with the other.
Inspirers over the years, include mediums Gordon Higginson, Robin Stevens, and good friend Glyn Edwards but Ron describes his dismay at 'instant mediumship' and laments the loss of good teachers who he says "Don't seem to exist much any more".
Filming trance and Clairvoyance at a Church in Peterborough recently was a very humorous occasion and worth mentioning here is the wide repertoire of spirit forms around when Ron takes the platform for clairvoyance which include of all things, ducks, ferrets and even the occasional camel!

There were enquiries of a more searching nature however and the content will be available on DVD in the new year but I think what might sum up Ron best is how he sometimes ends his demonstrations with and that's:
"Some people think its nice to be important, I think its more important to be nice."
<< Table turning | Michael Courtney-Hunt>>
Home | What's On the DVD's | Colin Fry | Ron Jordan | Irene Sowter | Ray Brown | Les Driver | Clairvoyance | Press Articles | We Can Help | Galleries