Home | What's On the DVD's | Colin Fry | Ron Jordan | Irene Sowter | Ray Brown | Les Driver | Clairvoyance | Press Articles | We Can Help | Galleries
---
'Spirit Guides' DVD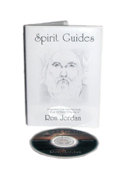 Click here for Spirit Guides 2
---
Ron Jordan

Having met Ron Jordan in about 1998, it wasn't until recently that we found time to work together.
Behind his ebullient and jolly nature Ron has a deep seated desire to help his fellow man to share the things that life has taught him and this he does through his mediumship.
Involved with Acton Spiritualist Church for many years and holding demonstrations of trance and clairvoyance workshops, Ron puts himself in the firing line - as it were, along with other physical mediums.
However, he isn't one to take much notice of the very few critics that he occasionally encounters besides which he normally leaves these for George to deal with!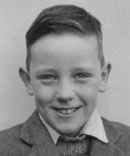 Ron knows he has a job to do and will continue with this, and regardless of what anyone says or does, his job is to teach and heal.
One of the worlds finest
Ron Jordan has experienced spirit activity from an early age and although unaware that this was not the norm until later in his childhood, he soon realised this gift which over time he was to develop and nurture, enabling him to become a fine advocate for spirit communication.
'Spirit Guides', is about this ebullient Liverpudlian, his thoughts on a variety of topics along with philosophy from his Spirit Guide who simply refers to himself as 'George'.

The many people who attend demonstrations by Ron Jordan, come from all over the country which is testimony to the tremendous work he carries out.
Plagued with back problems since an accident at work some years ago, this does not deter Ron from from giving 100% effort to the task of delivering messages and trance addresses from George which he does with great wisdom.
The reason for this commitment is that not only does it help other people but Ron actually benefits physically from the trance state and can revel in the knowledge that he was given a gift and is fortunate enough to know how to use it.
Clairvoyance is another aspect about which many people have become interested over the years and is something which Ron also uses to help people come to terms with the afterlife by delivering messages from Spirit.
A wide repertoire of spirit forms abound when Ron takes the platform and these include of all things, ducks, ferrets and even the occasional camel!
Ron Jordan is a very humorous guy with a serious job and whose motto is:
"Some people think its nice to be important, I think its more important to be nice."
Home | What's On the DVD's | Colin Fry | Ron Jordan | Irene Sowter | Ray Brown | Les Driver | Clairvoyance | Press Articles | We Can Help | Galleries