Home | What's On the DVD's | Colin Fry | Ron Jordan | Irene Sowter | Ray Brown | Les Driver | Clairvoyance | Press Articles | We Can Help | Galleries
What People Have Said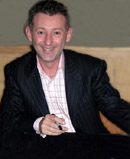 Colin Fry: Dear Michael, I love 'Nearer the Light'. Its brilliant!
You have done a brilliant job on all three of the 'Magnus Guides' productions.
Sarah Finch - Guernsey: Thank you very much for the Magnus series. I was not sure how I would react to seeing a Spirit Guide speak through Colin. I found it quite amazing, there being a clear distinction between Magnus & Colin, but both inspiring. I should like to see more!
Sharon Binks - Shropshire: Infinitely reassuring. Every home should at least have a copy of Magnus Guides volume one!
Barbara - Kent: I have learned so much which will help with my development. Congratulations.
Tony Ortzen. Editor - 'Two Worlds': I found 'Magnus Guides' to be extremely interesting and well produced.
John - Yorkshire: Further DVD's of this nature should be greeted with great enthusiasm by the spiritualist world. I hope that you enjoy brilliant success. May God bless your efforts, and please let us see and hear more of Magnus.
D. Rolfe- Spain: I would like you to send a copies of your excellent DVD's to my daughter in Australia. I had a further viewing last Friday evening when sixteen persons crowded into my lounge to view your DVD! All were very impressed.
Dorothy Wood - Berkshire:Thank you very much for the four DVD's received safely. I did enjoy them and was most interested in finding out more about the life to come.
E. Mallaband - Derbyshire: The DVD, 'Healing Years' is thoroughly engrossing. Irene's gifts were well documented and very well balanced between human, animal healing and her mediumship, not to mention her philosophy.
Andy M. (Actor): Many thanks for 'A Voice from the Light'. The photography and graphics are very interesting and being there at the recording made me appreciate the editing and structuring you've achieved. Congratulations.
Stewart - West Midlands: I must say that 'Magnus Guides' and 'A Voice from the Light' has been a great help and comfort for me and my family and friends. What you, Colin and Magnus do is important and very much needed in the world today
Elaine - Kent: I find the tapes a good way of learning. I felt that Magnus was talking to me personally.
Blanche - Norwich: I enjoyed 'A Voice from the Light'. I showed it to several friends who are not Spiritualists and they were most impressed
W Wilkinson - Guernsey: The Spirit World must be very proud of your work in promoting our spirituality
Rachel - Herts: Thank you for your speedy service
W. Nolde - Kent: I had already heard a recommendation from Colin Fry whilst attending his latest public meeting.
Elizabeth - New Zealand: I purchased your DVD production 'Magnus Guides' which I thoroughly enjoyed. I would now like to go on your mailing list for any future similar DVD's you may produce...
Joy Skinner - Tonbridge:Will you send me the last installment of the trilogy entitled 'Nearer the Light'. I treasure the other two titles.
Jim Thomas - Hants: Thanks Michael. Go on from strength to strength in your endeavours. I am certain that Spirit is working with you.
Arthur Huggett. New Zealand: Thank you Michael, the DVD's are excellent. Keep up the good work.
Glynis Jennings - New Zealand The DVD's are amazing to watch, provide incredible food for thought and also raise questions, the answers to which are probably beyond human comprehension.
Manny - New York: I was very impressed with Ron Jordans' mediumship and the making of 'Spirit Guides One'
Janet Fisher: Thank you for your new DVD 'Ron Jordan, Spirit Guides2' It is brilliant as I knew it would be. I always look forward to new ones beng made. Not only must they be a great pleasure to many people, they are also an inspiration to people like myself. Thank you once again. Much Love.
Katherine - Australia:Thank you Michael for your fast and efficient service and delivery. I've seen all your DVD's.
The Magnus Guides trilogy is fantastic and found myself caught up in the emotion, having at times to fight back the tears. Once again, Thanks.
Phyllis - Herts: Many thanks for the "Spirit Guides 1" DVD which arrived yesterday. I played it last night and it was wonderful. Thanks again.
Michael - Galloway: You go from strength to strength. 'Spirit Guides 2' is - in my opinion, the best yet'. Long may you continue to carry the torch for spirit.
Karen - Fort Lauderdale, Florida:
I just received and viewed The Magnus Guides DVD. It is Excellent!
There are a lot of different people in different settings/ groups I desire to share this DVD with. Outstanding work by you and Colin Fry and it merits sharing with all people located anywhere on our Earthly Planet. Thank You.
Home | What's On the DVD's | Colin Fry | Ron Jordan | Irene Sowter | Ray Brown | Les Driver | Clairvoyance | Press Articles | We Can Help | Galleries